Together with a lot of requirements on the construction progress & quality at site, the occupational safety is always concerned and monitored closely by SCI's leaders. SCI always determines that ensuring occupational safety first is to ensure the lives of workers, then it shall help the company to reduce damages caused by accidents, and employees shall work more productively and efficiently then it shall reduce cost of overcoming consequences. Moreover, only when strictly enforced occupational safety at site, SCI is capable to gain trust and build up a good reputable brand name to employee and customers which suilts to the development orientation of the company.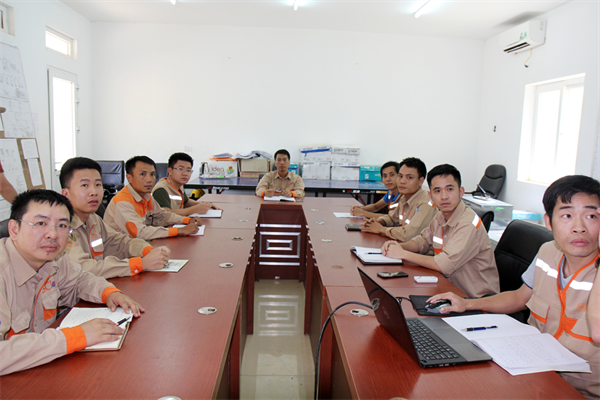 SCI E&C's meeting to review occupational safety at Ca Nan HPP site
Up to now, SCI E&C (a member of SCI Group) is participating in the execution for many energy projects in and outside of Vietnam such as Ca Nan 1, 2 HPP (Nghe An); Long Phu 1 TPP (Soc Trang); Namtheun 1 HPP (Bolikhamxay, Laos); Ninh Thuan SPP ... At most of projects, with the requirement of customers to accelerate the construction progress, occupational safety might be happened at any time then the occupational safety should be cared strictly.

In a meeting to review occupational safety at Ca Nan HPP on May 6th¬, all problems that may cause risk of occupational safety are strictly reviewed. From then, it is instructed clearly that before commencing execution, it is a need to prepare detailed occupational safety measures for each item, the connecting wires from the master circuit breaker for each box culvert working team must be wrapped by rubber layer in 7cm thickness and waterproof in 10cm. All points where has high rocky cliffs and easy to landslide are required to install bigger warning signs and stop working when it's dark & rainning. As per the direction of Mr. Hoang Cong Tuan - Deputy Director, the steel fabrication shops for 7 working teams at Ca Nan HPP must be gathered as one before May 20th. In addition, the organization of transport must be done scientifically to avoid traffic congestion, steel scattering that might cause to unsafety factors such as steel transport, welding… Especially, the awareness in safety should be reviewed at site with a lot of strict regulations designed by SCI's leaders.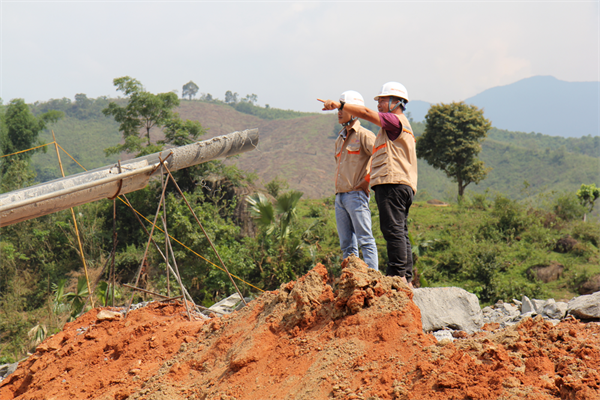 SCI E & C staff inspects and directs occupational safety at work site
In Nam Theun 1 HPP, SCI E&C's staffs have just joined in a safety course at site last week. Mr. Nguyen Van Quy, site engineer said that the course is designed to help all staffs to have more information about the project's rules, signs and general regulations, as well as the requirement of being fully protected and awared of the rules before entering site. Joining this Project as a subcontractor who is selected to execute many large items, SCI E&C is considered as a Subcontractor that managed well the occupational safety for employee. However, according to SCI E&C's Site Manager in Nam Theun 1 site, staffs need to increase awareness to ensure safety during execution progress for the Project in Lao PDR.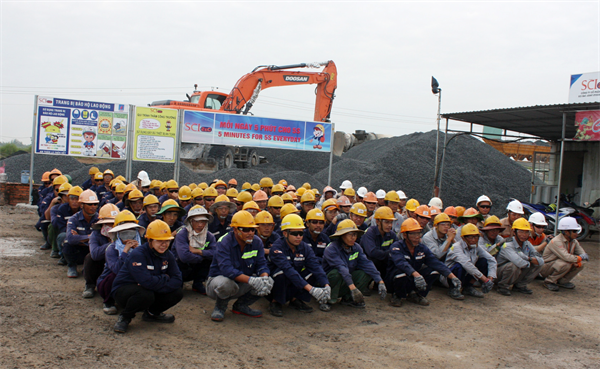 SCI workers are training with safety skills in Long Phu 1 construction site
According to Mr. Le Trung Dung - Director of SCI E&C Southern Branch, Site Manager at Long Phu 1 TPP: 'At least one time per month, we have to review and inspect all of our employees on occupational safety to get experience as well as listen to their suggestions. In addition, as a matter of fact, the General Contractor PTSC is very strict in safety rules so we should equipped with fully protection before entering site and keep a rule in our mind that Lives are more important than anything else'. Beside that, before every shift at site, SCI E&C workers in Long Phu TPP are warned by safety engineers about protective clothing as well as methods to ensure safety.
SCI E&C is now constructing many projects so the occupational safety should be always cared strictly by the leaders and employees during the progress of each each project. In the future, such occupational safety should be more strictly cared.
Tào Tuấn