SCI Lai Chau Joint Stock Company has just organized the program Warm Spring 2018 to give presents on the occasion of Lunar New Year for students and villagers of Na Cau and Giao Chan village, Ban Lang Commune, Giao Chan District, Lai Chau Province.
Despite of the cold weather in Lai Chau during those days, villagers and students still enjoyed the program organized by SCI Lai Chau Company.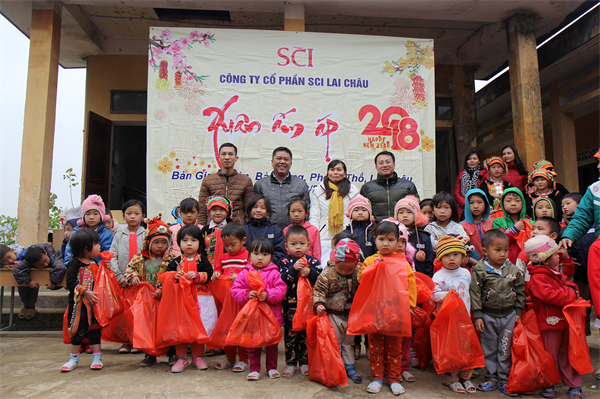 The children of Giao Chan village are receiving gifts from the charity
In Giao Chan, because trucks could not pass the bridge from the inter-commune road to the village, so early in the morning, the Youth Union members were riding a motorbike, carrying boxes to help the Organizing Committee move into the central elementary school of the village. The women held the baby on his back, the old women in warm clothes, the children, all gathered at the school grounds as a festival. Not only the families in the village were given Tet gifts, the children were given capes, books or warm socks... they also enjoy many performances of the beautiful Giao Chan' girls. Mr. Ly A Mun laughed and said: 'It is too long to see 'The teacher come to village' performance, my wife also danced this song when she was young. Thank you very much. Come back here and dance for us if you have any chance ..'. Not only Mr. Mun, many other people were also happy and proud of the performance by Dao girls. Although the program ended at noon, nearly 12 hours, the villagers were still overjoyed because of SCI's attention just before the coming spring.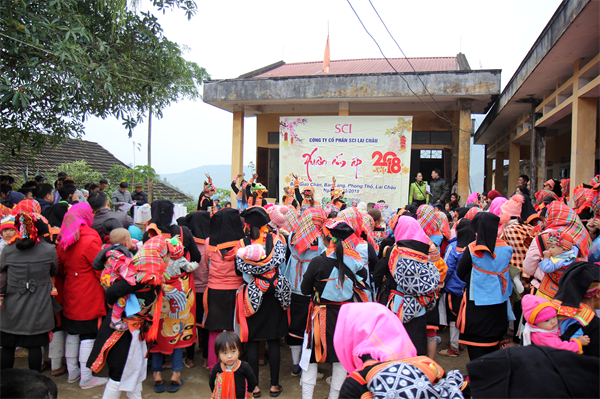 Young women performing at the charity show
Sharing the happiness with people in Giao Chan, in the same day, the Organizing Committee gave gifts to the people in Na Cung village. Although the show was annouced to start at 14:00 pm, the bustling sounds from the commune health station had brought everyone here as a rendezvous of excitement. Each child received the pen and warm clothes, each household received essential item gifts such as noodles, MSG, sugar… that were the food in New Year.
At the ceremony, Mr. Doan The Anh – Deputy CEO of SCI Joint Stock Company said, this is the activity to share difficulties, encourage compatriots, youth union members, students in Giao Chan and Na Cung on Tet occasion. Mr. The Anh hopes that in 2018, people in Ban Lang Commune will have a more stable life, more children will be able to go to school, contribute to the development of Phong Tho district.